Mary Bosede Oluwatunbi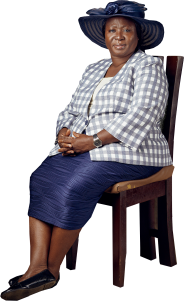 Rev. Mrs. Mary Bosede Oluwatunbi is a respected Speaker, Trainer, Family and Marital Life Consultant and Minister of the gospel. She is passionate about the total well-being of families and homes, leading young and old to success in their various endeavours through her teachings and writings; to which she has dedicated her life and service. She is a fully registered Quantity Surveyor who obtained a Bachelor of Science (Bsc. Hons) degree from Ahmadu Bello University, Zaria, Nigeria. She is an alumnus of the Haggai Institute for Advanced Leadership Training Singapore. She is the Director of Projects and Infrastructure in the Ikeja Province of Pentecostal Fellowship of Nigeria. She is married to Rev. (Arc) Samuel O. Oluwatunbi the Mission President of Christ Peoples Assembly Inc. and are blessed with four loving children and two adorable grandsons. She is the General Women Coordinator of the church.
A prolific author, her books include: Mothers: Home Makers and Nations Builders, Relating well with your in laws, Bequeathing a lasting legacy, Maximizing your earning years.